July 2006 Newsletter
---
Dear Friends
How many journeys did you take today? There are many ways to journey; it may be a physical, mental or spiritual journey. Physical journeys could be far or near and involve various types of transport, from a walk in the woods to a flight across the world. We can travel to places previously only dreamed of via television, books, computers and other media. We can even enter virtual reality and experience imagined worlds! Journeys can inform and stimulate us in so many different ways.
Jesus and the disciples were regularly travelling on to a new place. Paul went far and wide to the ends of the then known world to spread the Good News of the Gospel. Lots of shoe leather required! But probably the majority of our journeying does not involve a physical movement. Mental journeys, which help us to adapt to changes in our lives are occurring all the time. We strive to learn to cope with all the good or bad situations that may arise. Jesusí disciples found it very difficult to lose their preconceived ideas of Jesus and to accept his suffering. They travelled a long way spiritually and it wasnít until after the resurrection that they fully believed and by the power of the Holy Spirit continued their Christian ministry.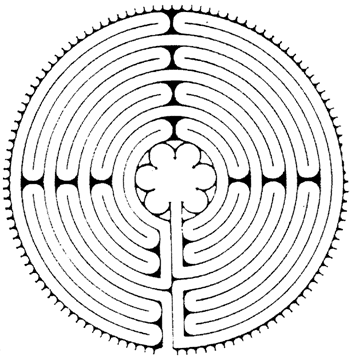 Prayer is not just about speaking to God. It is a type of spiritual journey. We travel in our minds toward a meeting with God. We may take concerns and things of this world with us, but as we meet God, we try to hand over to Him and listen for guidance. Then we travel back hopefully strengthened and with our load lightened. A Labyrinth can be used to help this type of prayer journey to God at the centre and then back. A labyrinth is not a maze with many choices of route and blind alleys; it has one winding path to the centre. You may have come across labyrinths in cathedrals or in large gardens. You may have walked the labyrinth at the recent Walking with God day at Wendover. A drawn labyrinth can be used in the same way for prayer. Sit quietly and use your finger or a pencil to enter the path. Follow it slowly to the centre. Think of all the twists and turns in your life, as the path winds back and forth. At the centre - pause. Meet in the stillness with God and talk to Him of your concerns. When you are ready move back out along the path, slowly moving back into the world. This may take some time, but it is worth travelling slowly to experience the sense of a spiritual journey.
Happy journeying!
With love
Bridget
Find a quiet space and -
Enter the Labyrinth
---