February 2007 Newsletter
---
Dear Friends
How easy it is to misinterpret what is said.

Not long ago a new Bookkeeping course was started at the prison where I teach. One of my students went to this class and I met him afterwards. He was delighted with the first session, but 'it was about numbers and accounts', he told me. I was surprised by this comment and asked what he had expected of the course. He thought it was going to be about looking after books, bindings, coverings and cleaning. An obvious error when you think about it. Nobody taking a course on Rabbit Keeping would expect to be told how to make rabbit stew!

No wonder the disciples found it difficult to understand Jesus when he told them he would die and then return in a new way. This was beyond anything they had met before and they could not take it in. They understood nothing about all these things, in fact, what he said was hidden from them and they did not grasp what was said. (Luke 18:34) It wasn't until they were empowered by the Holy Spirit at Pentecost, that things began to make sense and they learnt how to be true disciples.
We are all restricted by our past experiences and related prejudices, so we often make wrong assumptions. We want firm facts and results to know and believe in something. Unfortunately life doesn't always work like this and God certainly doesn't. Instead we need to trust and believe and then the Holy Spirit will show us the results. In this period between Christmas and Easter, we look at Christ's earthly ministry and wonder at all he achieved in such a small space of time. Lent comes at the end of February and will lead us to Easter; a time of preparing and for learning. Let's all take time this Lent to learn and to grow so we may have a clearer understanding of all it means to follow Jesus. Rather than give something up for Lent, why not find a study book to dip into each day and the Churches Together for Chesham Lent lectures on Wednesday evenings should provide some stimulating thoughts. (Details inside!)
Informed judgements are much healthier than ill-informed assumptions!
With love
Bridget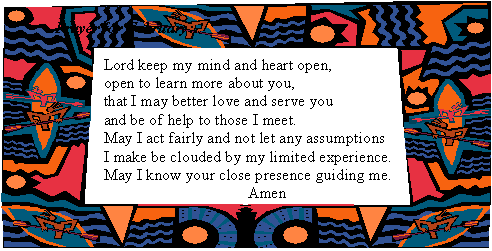 ---