July/August 2007 Newsletter
---
Dear Friends
It is often said that fact is stranger than fiction! The Cross and the Switchblade, which a group of us saw at The Elgiva in June, is an amazing true story. Perhaps because its setting amongst the street gangs of New York is not within our experience, we struggle to believe that God could change such violent young people.

A preacher David Wilkerson felt called by God to leave Pennsylvania and go to help the young people in the street gangs in New York. Reluctantly he went and gradually managed to make contact and get to know some of these violent young people, including one of the gang leaders, Nicky Cruz. Nicky had grown up in Puerto Rico in a family whose lives revolved around the occult. They called him 'Satanís child' and he was sent to live with his brother in New York. He soon joined a street gang and became a violent killer, embracing all the gang's amoral behaviour. Amazingly Nicky is converted to Christianity by David reaching out and speaking of God's love.

The story hasnít ended, because David Wilkerson's ministry among the desperate, bewildered, addicted and often violent youth continued. There are now 173 residential programmes in the US and 241 centres in 77 other countries. Nicky Cruz went to Bible College and in 1962 was ordained as a minister. He has been all over the world preaching, telling his story and reaching out to young people, who have been drawn into gang life as he was. He has been there, so he can with confidence tell them that with God's love they can escape and have hope for a future.
Incredible, but true! If God can work in such a situation, how can we doubt that he can work to bring even small changes in each of our lives. We only have to look at the way Jesus reached out to people in his ministry to see how lives are changed for the better. Positive stories of God's love at work in the Gospels, through the years and still today evidence of God changing lives for the better.
An interesting 'coincidence' is that The Cross and the Switchblade was on at The Elgiva the same week as it was the recommended reading in the Alpha Course notes!
We can give thanks that God lives and his love can be seen through those who he calls to work for him and those who he calls to change.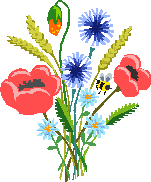 Have a good summer.
Love
Bridget
A summer prayer:
Creator God,
As the sun shines, may we know your warm love surrounding us.
Healing Lord Jesus,
As you helped and directed those you met, show us your way.
Comforting Spirit,
Come and strengthen us to reach out so that amazing things may happen.
Amen
---