December/January 2008/2009 Newsletter
---
Dear Friends

Is it better to give or to receive?
For many people it is a joy to give to others. The gift may be something tangible, like a bunch of flowers or jewellery or it may be giving of time and talents. Giving is an expression of love. Giving shows enduring care; it is not usually a momentary, impulsive act. Thought goes into the gift and a time to present it is chosen. This year in a time of recession the choice of gifts may be even more careful. Giving can leave you with a feel good factor that you have helped somebody else.

On the other hand, when we are in the position of the person receiving the gift, we may respond in a variety of ways. We may be delighted and grateful; we may wonder at the use and suitability of the gift; we may accept the gift and then quickly forget it; we may even reject the gift. We can think of the annual slogan that, a dog is for life, not just for Christmas. People who have been used to a busy life helping others, often find it hard to graciously receive, when someone wants to help them.
Through the Bible we are regularly reminded of Godís gifts to us.
Jesus says to the woman at the well, "If you knew the gift of God and who it is that asks you for a drink, you would have asked him and he would have given you living water." (John 4:10)
Jesus tells the disciples that his Father will send the Holy Spirit to help and strengthen them.
Paul writes in many of his letters about gifts and says, 'each man has his own gift from God; one has this gift, another has that.' (1Corinthians 7:7)
We are encouraged to use our gifts, I remind you to fan into flame the gift of God, which is in you through the laying on of my hands. For God did not give us a spirit of timidity, but a spirit of power, of love and of self-discipline. (2 Timothy 1:6)
At the heart of Christmas is giving and receiving. Cards and gifts are bought and exchanged. It is good to do this, because it is a way to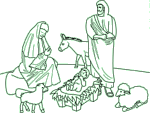 remember family and friends and show love. However, the point of the giving and receiving at the heart of Christmas will be missed, if too much time and effort goes into the trimmings of Christmas.
Godís gift of Jesus as a Saviour for the world
is a greater gift than we could ever imagine or hope for.
How do we receive this gift? Do we receive Jesus with delight and gratitude; with questions of his use and suitability; with joy and then quickly forget he is there; with rejection?
Godís gift is far too important to discard or reject. This Christmas letís celebrate and receive with delight, Godís gift for each of us. A baby born as Saviour, who grew to show us how to live and by whose death on the Cross, brought us forgiveness and life everlasting.
Jesus is for life, not just for Christmas.
I wish you all the blessings of Godís gifts this Christmas and a closer walk with God in the New Year.

With love,
Bridget
---