April/May 2009 Newsletter
---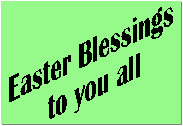 Dear Friends
One of the hobbies the Internet has helped promote is Family Tree research. People delight in tracking back their history and maybe to find the famous or the scandalous in past generations. Sometimes there is a missing link and speculation can result! Even on TV, the 'Who do you think you are?' programme takes top ratings.
Jesus asked the disciples, 'Who do people say that I am?' The replies do not describe Jesus by his ancestry, even his mother, Mary, is not mentioned. The people have seen the actions of Jesus and compare these with the Old Testament prophesies, which tell of a promised Messiah and what he will do. Jesus is seen to fit this role, but some folk are still not sure and answer John the Baptist and Elijah. Those who believe he may be the promised Messiah are expecting a powerful warrior king. Jesus has shown his power, but he leads by promoting love and peace. The authorities feel threatened, because their manmade rules and practices are being challenged and their superficial power challenged.
Jesus' power is evident – the strength of love is far greater than that of violence. Love so strong that he allowed himself to be arrested and taken, as a common criminal would have been, to death on a cross. Love triumphed as death was conquered and the risen Lord Jesus gave us release from sin and the promise of eternal life. Christ's divinity was revealed and the disciples now knew the truth that he was the promised Messiah and believed.

If we were asked, who would we say Jesus is? We might answer, the Son of God or part of the Trinity – grand powerful labels, but the message of Easter is that above all he is our Saviour and friend, because he died for us and the empty cross declares the victory of God's love. This is the truth we too can believe. This is the Good News to celebrate and spread! When we reflect on an empty cross, we can marvel and rejoice that Jesus is alive and there for each of us today.
Jesus died on a tree, but he cannot be limited. Jesus' Family Tree is the tree of life and as God's children we can all claim our part in that tree.
Take time to reflect on all Easter means and especially being part of God's family.

Alleluia, Christ is risen!

Love,
Bridget
---