December/January 2010/2011 Newsletter
---
Dear Friends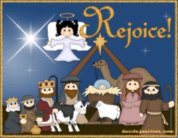 Thinking of all the things needing doing to prepare for Christmas I couldn't help but think of Babushka. You will probably have heard of the Russian folk tale that tells her story. Babushka was always busy; cooking, sweeping, cleaning, polishing and dusting. Her house was spotless as was her garden. She was too busy to join the other villagers as they wondered at a new extra bright star in the sky or gazed at the procession of visitors. It was only when there was a loud knock on her door that she met these visitors, three kings and their servants. They had heard her home was the tidiest in the village and wanted to stay there until they could again follow the star. She asked why they followed the star. They replied that they hoped to find a special newborn king. 'Why don't you come with us?' one of the kings asked, 'You could bring a gift for the baby, like we are.' Babushka thought she would like to go with them and she had plenty of toys she could take. Her baby son had died when he was small and she still kept the toys. The kings were ready to go on, but Babushka hesitated - she needed to clear up - she would follow later.
Eventually she was ready, but there was no sign of the kings. She kept asking and following in their wake. Eventually she arrived at Bethlehem and to her surprise she was led to the stable behind the Inn. The baby, his family and the kings had long gone, the innkeeper told her. She was too late to find the baby, who she now knew was Jesus, the world's Saviour. Babushka has ever since travelled the world looking for Jesus and every time she meets a good child she gives that child one of the presents she is carrying.
Babushka completely missed Jesus because she delayed, busy doing other things. In this day and age our Christmas preparations can distract us and make us miss Jesus instead of leading us to him. Where do we find Jesus in all the busyness of our world? Yes Jesus is there, but to answer the question we need to step to one side, be quiet and pray, so that we can find him in the world and in our lives. Henri Nouwen, the Dutch Catholic Priest and writer, wrote about the need to do just this and looked at how when the early church was experiencing great problems, people went out into the desert to be quiet, to pray and so find God. These desert fathers and mothers didn't cut themselves off from the world, but stood to one side and were noted for their wisdom and spiritual guidance.
I hope you will all find some time to step aside this Christmas season. That you will be able to find the baby Jesus and wonder at his coming and all it means for our world today.

Come and step aside with us as we celebrate Christmas in our worship and fellowship together.
A very happy Christmas to you all and may Jesus travel with you into the New Year.
With love
Bridget
---