The King James translation was a great step forwards. Today seventeenth Century language whether in a Bible or in Shakespeare can prove difficult to read and understand, but there are many phrases and poetic passages that are still part of our daily language. For example:
The skin of your teeth [Job 19.20]
Nimrod [Genesis 10.9]
Signs of the times [Matthew 16.3]
Chariots of fire [2 Kings 6.17]
No peace for the wicked [Isaiah 48.22]
My brotherís keeper [Genesis 4.9]
Letís all celebrate this anniversary by rejoicing at the availability of the Bible in English and resolve to make better use of all these wonderful resources.
Lent starts on 9th March, instead of thinking of giving something up, why not take up a Bible and read a passage each day. Maybe follow the story of Jesus' life in one of the Gospels so that Easter will come with new insights this year.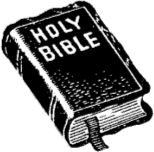 Happy reading in 2011!
Come and step aside with us as we celebrate Christmas in our worship and fellowship together.
A very happy Christmas to you all and may Jesus travel with you into the New Year.
Love from
Bridget
A prayer of thanks for the Bible:
God who is beyond words,
we thank you for the Bible,
translated into many languages,
re-written in many different versions,
to reach many different audiences.

God who is beyond words,
we thank you for the Bible,
with its stories of your people,
its poetry and wisdom,
its parables and teaching.

God who is beyond words,
we thank you for the Bible,
as we look to its pages for guidance,
for words of comfort and reassurance
and for words of challenge and inspiration.
May we learn from your word
and share your word with others.

God who is beyond words,
may we read from your living Word
in every language, in every time,
in every place,
your words of hope and life. Amen
(Taken from Roots materials)