October/November 2011 Newsletter
---
Dear Friends
For me one of the delights of the harvest weekend is stepping into the church and being 'hit' by the lovely smells of flowers, fruit and vegetables.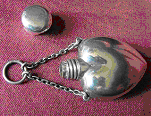 Our sense of smell is usually underused unless we meet a very strong bad or good scent! In the Bible perfume is associated with anointing on special occasions and for special people. The wise men gave baby Jesus scented gifts; the lady who washed Jesus' feet then anointed them with perfume; on Easter morning the women took perfume to the tomb and there are other examples to show the importance of perfumes. In a society where bad odours were difficult to get rid off perfume was an essential.
An American author, Rita Snowden, tells of a visit to a small town near Dover. She was having afternoon tea in a restaurant when she became aware of an unbelievably pleasant scent filling the air. She asked the waiter what was causing the scent and he told her it came from the people passing by. He explained that they worked in the local perfume factory and were passing on their way home. As they left the factory they carried with them the perfume that had permeated their clothes during the day. Rita reflected that this is how the church should be at its best. In our worship we should allow ourselves to be permeated with the love of Christ and the sweetness of his presence. Then as we go into the world the fragrance will go with us and be picked up by those we pass.
Sight, hearing, smell, touch and taste can all be used in worship and to serve God. Unfortunately not all people have all their senses, but we can all find ways to use the gifts and talents we do have.
This Autumn brings several special Sundays – One World Week, Remembrance Sunday and we will have our worship led by the URC Chaplain at Heathrow and also Jo and Mike Griffith, who work in Burma. Windows on the world around will be opened and the fragrance of God's love seen at work. As Roger Courtney's hymn says, "O let us spread the pollen of peace throughout the land" and like Jesus sow seeds of love in our community and the wider world.
With love
Bridget

A prayer for Autumn:
As the leaves fall and the nights draw in, help us to know your light shining through our fallen world and through our times of darkness. Loving Lord, may we know the fragrance of your love around us and your peace in our hearts. Amen
---