April/May 2012 Newsletter
---
Dear Friends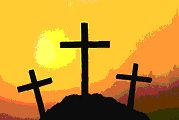 I have a large white teapot. It was given to me on a happy occasion when it was used as a container for flowers, but that is another story…!

White china shows up tea stains very easily. When washing up the outside of the teapot returns to white easily, but the inside tends to need more attention. The fact it is white means you can see what is happening although of course tea stain will have the same effects on any teapot. As I washed up this pot, I considered that we are like the teapot. We all go wrong and become stained. The outside marks can soon be washed off, but the inside stains are not as easy to remove. Jesus died for our sins and it is through his death that we can receive forgiveness if we turn to him. He will remove our inner stains and restore the white for each of us. If we regularly turn to Jesus and confess we will keep clean inside and function better. Teapots may also have scratches and chips from much use and we too have our own scratches and chips. These are part of our life stories and cannot be removed. The memories they give add to who we are and can give valuable insights that we can use to help others. The analogy of the teapot cannot be taken too far, but helps us see that it is necessary to be cleansed of inner stains.
As we come to celebrate Easter this year we will acknowledge Jesus dying for us on Good Friday and rejoice at his risen presence on Easter Sunday. Through the events of that first Easter, we are forgiven, cleansed and can make a fresh beginning. We have the great resurrection hope that we now have a new covenant with God, which means we have the promise of eternal life. Great news! We repeat the words from the Bible that give such reassurance:
''For God so loved the world that he gave his only Son, so that everyone who believes in him may not perish but may have eternal life.'' (John 3:16)
Here is the basis for our faith, our hope and our peace.

As Christians, we are not promised lives free from stains and chips and scratches, but we are told to each take up our own cross and follow Christ. He will lift our loads and bring us through even the most difficult times to find resurrection joy.
The shops are full of Easter eggs and small chocolate bunnies, the spring flowers are brightening the gardens and trees are coming into blossom and leaf. Signs of new life. As we celebrate Easter may we each feel the signs of new life in us as we greet our living Lord.
Easter Blessings to you all.
With love
Bridget
An Easter prayer:
Come living Lord,
Come to our hearts and walk beside us on the road of life.
Cleanse us from all that would hinder us from following your way.
Come to show us the resurrection hope and give us peace. Amen

---