December 2015/January 2016 Newsletter
---

Dear Friends,
Christmas and the New Year are times when people get together who perhaps donít usually meet. It is described as a time of peace and relaxation Ė a holiday, but for many this is not always what happens. We should be celebrating and taking time to remember that Christ was born for us Ė great news. Many people will have to work as essentail services have to be kept going, but I hope they will celebrate when they are free from work.
I came across this map which shows those countries where Christmas is not a public holiday. It is amazing how much of the world will be on holiday for Christmas! What an opportunity for celebrating Christís birth and for promoting peace.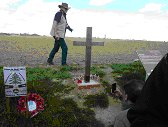 Last summer I was reminded of the power of Christmas when as part of a tour of the WW1 frontline and cemetries, I visited the site of the Christmas Peace Truce. Our coach struggled to reach the end of the small lane at the side of which was a small memorial. Open fields stretched to either side and this was where the opposing troops met each other coming out from their respective trenches on Christmas Day. It was recognised on both sides as a special day and there was such a need for a break from the horrors of all that was happening.
It would be good if the special joy and peace of Christmas could be felt every day. Not a holiday every day, but a sense of Godís love and Jesusí presence always there for each of us. The great thing about walking with God in life is that there is always the opportunity to start anew - God always offers us a new day and a new dawn, no matter what has gone before. At the start of the New Year, why not take a moment to reflect on the last year, ask Godís forgiveness for where you have failed, and ask for strength to follow Jesusí example in the days ahead.
Have a relaxing and peaceful Christmas,
With love,
Bridget
A Prayer for Christmas Morning The day of joy returns, Father in Heaven, and crowns another year with peace and good will.
Help us rightly to remember the birth of Jesus, that we may share in the song of the angels, the gladness of the shepherds, and the worship of the wise men.
Close the doors of hate and open the doors of love all over the world.
Let kindness come with every gift and good desires with every greeting.
Deliver us from evil, by the blessing that Christ brings, and teach us to be merry with clean hearts.
May the Christmas morning make us happy to be thy children,
And the Christmas evening bring us to our bed with grateful thoughts, forgiving and forgiven, for Jesus' sake.
Amen
(Henry Van Dyke 1852-1933)