April/May 2017 Newsletter
---
Dear Friends,
On my recent trip to the USA, I had a brush with airport security which could have ended very badly. I had dutifully removed liquids and creams from my handbag, as well as my emergency kit containing scissors and small screwdrivers. So I was surprised to be called aside and shocked to see a long sharp object on the X-ray. The officer emptied my bag (thank goodness I'd had a clear out!) but couldn't find anything. In the end she found a 6 inch nail tucked right down into one of the many pockets. I was speechless! I could not imagine why it was there or how it had got there. And then I remembered. Last year, at the Good Friday service, we were invited to take a nail to meditate on. I had put it into my handbag, it had slipped down into a pocket and I had completely forgotten about it. Fortunately the officer believed my story. It was a good opportunity to share the message of the cross, but I wouldn't recommend it as a strategy!
The nails that were given out on Good Friday were a reminder of the brutal punishment that Jesus suffered for our sakes. It was a very powerful and emotional service. Somehow just holding a nail close to my palm made the pain of the crucifixion very real.
As I was writing this, the April copy of Reform arrived. In it, David Downing (URC Minister at Marlow and Maidenhead) references the autobiography of Bruce Springsteen (American rock legend). He recounts how Springsteen says that his understooding of the resurrection was helped by watching his father mending broken radios and breathing new life into them. It reminded me that although nails can be used for destructive purposes, their real function is to build and repair. They fix things that are broken and fasten things in place so that they don't break any more. The nails that held Jesus in place until he died also fixed our broken relationship with God. Just as a nail can break through the toughest materials, Jesus has penetrated our hard hearts and if we stay securely attached to him we can build a new life that will last for ever.
Praise be to the God and Father of our Lord Jesus Christ! In his great mercy he has given us new birth into a living hope through the resurrection of Jesus Christ from the dead, and into an inheritance that can never perish, spoil or fade. 1 Peter 1:3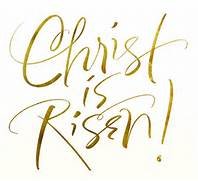 Happy Easter!

With love,
Heather P (Church Elder)
---