June/July 2017 Newsletter
---
Dear Friends,
Life is full of changes - some small and others huge. Wouldnít it be good to write a book about our own life changes?
We have just come through one of the most delightful times of the year. The glorious daffodils and grape hyacinths following on from the snowdrops and crocus at the start of the year. The trees are now bursting with new green shoots, the birds are nesting and the days are much longer.
The changing seasons give us time to listen to God and reflect upon His wonderful creation.Iím sure, like me, you must have felt very uplifted, coming into church on Easter Sunday morning, seeing a kaleidoscope of colour from so many beautiful flowers and a warm welcome from the choir singing on the church steps.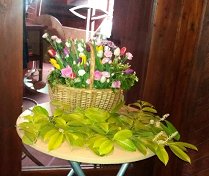 Alleluia, alleluia, give thanks to the risen Lord!
This year we are seeing another change within our church as we adapt to life without the leadership of Bridget as our Minister.
We continue to be a caring fellowship with everyone putting extra effort into the increased workload. We are using our gifts and talents to further the worship and mission of our church life within the church, and in our service to the community and the wider church of Jesus Christ. We are an outward looking church ready to respond to new ideas. Through prayer and pastoral care, we are a united family helping each other in any way we can.
Let us draw strength from past Ministersí leadership. Let us move forward with confidence, maintaining a happy, caring and alive church.
Let Godís Light shine through each of us as we reach out to care for each other.

With love to you all,
Betty (Church Elder)
---