February/March 2021 Newsletter
---
Dear Friends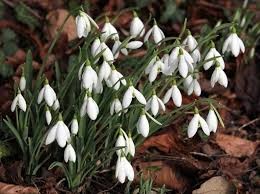 On my walks I've been noticing early signs of Spring: daffodil leaves peeping through, and snowdrops and primroses already in flower. I particularly like this photo, taken along Pednor Road, which shows snowdrops amid dead leaves – a sign that we are straddling two seasons.
This week (2 February) marks the Festival of Candlemas. Falling halfway between the winter and spring solstices, it's the point at which we begin to turn from the cold and dark of winter towards the promise of spring. Old traditions say that if Candlemas Day is bright and sunny, there is bad weather to come. But if the day is cloudy and wet, the worst of winter is over. This is the origin of the Groundhog Day tradition in the USA.
At the same time, falling between Christmas and Good Friday, Candlemas also marks the moving of our thoughts from birth to death. It commemorates the presentation of Jesus at the temple, 40 days after his birth, and his recognition by Simeon as the Messiah, the 'light for revelation to the Gentiles, and the glory of Israel' (Luke 2 v 32).
Simeon had waited his whole life for the Messiah and the Holy Spirit had assured him that he would not die before he saw him. Imagine the joy of an old man to have this promise fulfilled. But Simeon also had a prophecy for Mary and just as the sun on Candlemas may cast a shadow of bad weather, Simeon's words about 'a sword piercing her soul' foreshadowed the dark times at the end of Jesus' life.
We have had some very dark times in 2020. We've lost friends and loved ones. We haven't been able to worship as we might like, or meet with our friends and family. And we continue to be fearful about the future. But we've also gained in important ways. We've found enjoyment in the little things – a phone call, the time to read or walk, or for other pastimes that get lost in our busy lives. We've even embraced technology that we might have found too daunting before. How lovely has it been to meet for coffee over Zoom on Sundays? And just as we know, however cold and gloomy the weather is right now, that the light of the sun will increase as spring approaches, so we also know that even this dark time will pass. Like Simeon we wait for the light – and it is beginning to dawn as the Covid vaccination programme progresses.
One of my favourite quotations comes from St Francis of Assisi: "All the darkness in the world cannot extinguish the light of a single candle." Let us, like Simeon, continue to wait faithfully on God's promises and to remember Jesus, the light of the world, who will lead us through the darkness.

Keep safe!
Heather P
---