August/September 2021 Newsletter
---
Dear Friends
When I was chatting to God in my head about a topic for this letter (does that count as praying??), I got an answer I didn't expect.
The corner of Boxmoor where we live is subject to occasional power cuts, even though we live right beside an electricity sub-station. Last Friday we had 2 or 3 staggered over the afternoon into the evening, while the road was being dug up to repair the fault. Although there was no warning, and the first one happened during daylight, it prompted me to look out my boxes of matches, and check where all my decorative, but useful candles – and torches – were. As darkness descended for a longer spell, I lit the candles placed safely round the house, and began to contemplate.
Wasn't this what lockdown had been like? Learning as yet another one came, how to prepare our homes, get stores of food sorted and even finding a different way of living. Perhaps that meant learning how to do things differently, or even better. The sudden blaze of light and burst of forgotten TV noise which signalled that repairs had been done were maybe a foretaste of later this month, when we just might at least superficially return "to normal". What will our new normal be?
What have we all learned from the past 1 ½ years? My husband and I have personally been blessed by living not far from our 2 children and their families. Having a conservatory, a small garden and a big moor just round the corner meant family contact was maintained as and when allowed. We know not all were so lucky, but in many cases neighbours regained the old importance they used to have, while churches, clubs and charities stepped up to the mark.
In our faith we are all blessed with the knowledge of Jesus, the Light of the World to whom we can turn. Christ is not just the light at the end of the tunnel, he is a torch to guide us through the darkest times, our hope for the future, when "All shall be well and all manner of things shall be well".
Please remember that when you read St. Columba's blessing....
Be thou a bright flame before me,
Be thou a guiding star above me,
Be thou a smooth path below me,
Be thou a kindly shepherd behind me,
Today, tonight and forever.
Heather A-J
p.s. Just so you know, St. Columba was a northern Irish monk who crossed the water to Scotland to found the abbey on Iona in the sixth century! Christianity spread from there down through England and into the centre of Europe.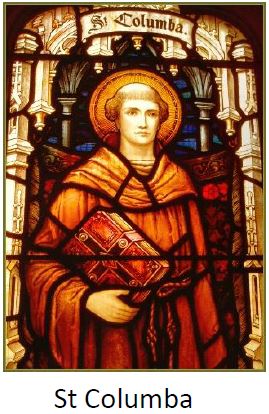 Centennial Celebrations – the birth of St Columba (1500 years) and the landing of the Pilgrim Fathers in the New World (400 years)
---